Posto ni ada unsur unsur korea lagi !!! HAHAHAHA PUAS HATI AKU.
Telah diriwayatkan dalam memori aku, bahawa dolu dolu kat 8tv ada tayangkan movie korea ni bertitle 'My Boyfriend is Type B'. tak best pon ceritanya, so jangan tengok unless kome peminat setia Lee Dong Gun ! masyarakat korea percaya lelaki yang paling tak sesuai dibuat teman sehidup semati ialah lelaki berdarah B. kontradiksinya, bagi wanita tidak menjadi masalah sekiranya mereka mempunyai darah kumpulan B. ni hanya input sahaja. bukan nya aku nak explain pasal kepercayaan korea yang karut marut ni. dak eih.
Sebenar benarnya aku nak tunjuk gambar ni. credit goes to the owner, sorry i don't know who's the owner !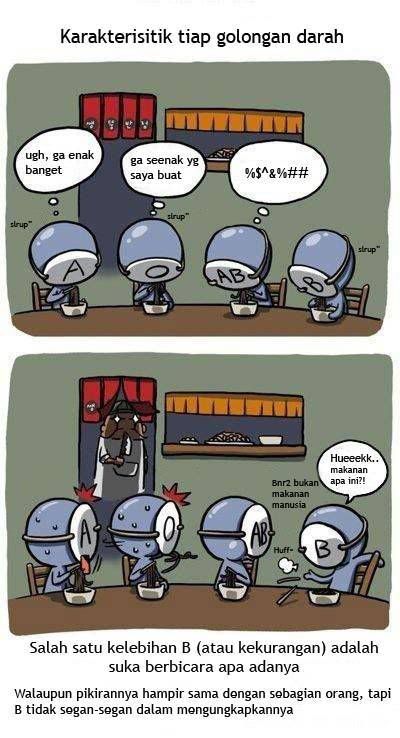 jelaslah darah A seorang yang teliti dan kemas !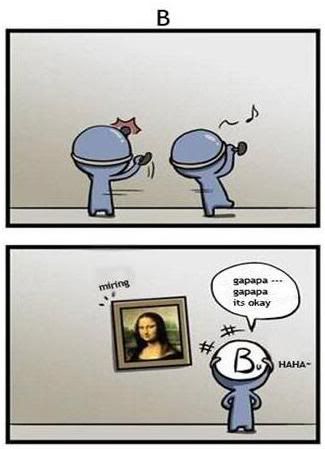 jelaslah darah B seorang yang langsung tak bersungguh sungguh !
jelaslah darah
O
seorang yang suka menangguh kerja dan jelaslah bahawa darah
AB
memang nakal budaknyerr !

aku nak masukkan lagi cartoon ni tapi cam malas. tahu tahu ajelah personaliti B ni kan y'olls ! ekskius me lah. bubye ~

sekali sekala belajar membaca bahasa indonesia ngga salah :)
ps: it's just for fun because there is nothing to prove that personalities are decided by blood type

darah korang group apa? meh aku tolong carikan *kembali dan edit semula setelah rasa bersalah pergi membiarkan entri dlm keadaan separuh siap*